Toru Asuka/Plot


Character Info
Kanji Name
飛鳥 享
Romanji Name
Asuka Toru
Gender
Male
Date of Birth
1/8
Blood Type
A
Team
Yoin Academy
Position
Defender, Libero
Number
5
First Appearance
Voice Actor
Plot
First Appearance
Asuka made his first appearance as a member of the audience watching the game between Enoshima and Shonen. He demonstrated his intelligence and keen observation skills by quickly figuring out the true meaning behind the Four Arrows and noted that the current Enoshima won't be able to score. After Kakeru was switched in and overcame his psychological barrier, Asuka began to take notice of him. Later it was revealed that he expected Shonen to win, but the result was the complete opposite and the main factor was due to Kakeru's actions. He reveals that for something to be out for his calculation is very rare and only happened once before, the time when he faced off against Kakeru's brother Suguru.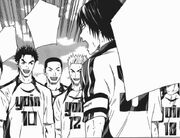 In the manga, after watching both Enoshima and Kamakura's matches, it was finally Yoin's turn. During their match against Sagamigaura High, Asuka demonstrated his valued leadership when they were initially stuggling against Sagamigaura High's unique soccer style, trailing at half time 0-1. In the second half, Yoin dominated the match and won 4-1, thus moving up to face off against Enoshima in the next round.
Vs. Enoshima
After moving through the top 8 matches, Yoin comes face to face with Enoshima. Asuka quickly showed off his prowess as a librero and Kanagawa's No.1 defender by foiling Enoshima's attacks and assisting the offense. Due to his active participation, Mishima Nana described Yoin as having 12 players.
After Kakeru was subbed in, Asuka began singlely-marking him. He was unable to stop Kakeru's Phi Trick the first time, thus allowing Enoshima to score a goal. However, he is confident about Yoin's victory
Rematch Against Enoshima