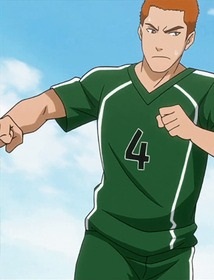 Kouichi Hibino (日比野 光一, Hibino Koichi?) is one of the four arrows of Shonen High. He has a muscular physique and is known for his Cannon Free Kick.
Background
Hibino uses to be on the same team as Suguru, Kakeru, and Nana when they were young. After Nana left for America, Hibino gravely injured his leg while trying to stop Kakeru from scoring. After that incident, he moved to Holland, where he made all the way trough to the Holland's national team.
Even after many surgeries his leg hasn't completely healed.
Stats

| | | |
| --- | --- | --- |
| Technique | | 4 |
| Passing | | 4 |
| Shooting | | 8 |
| Physical | | 9 |
| Free Kick | | 10 |