Kouta Nakatsuka (中塚 公太, Nakatsuka Kouta?) is one of Kakeru Aizawa's schoolmates with Nana Mishima and Suguru Aizawa. After graduating from Kamakura Middle School, he enrolled into Enoshima High, and joins the Football Club along with Kakeru. He was originally a defender but switched to a midfielder. He is known for his incredible speed but also for his lack of dribbling and defending skills.
Appearance
Koutas height and body build are average, altough his spiky hair makes him look taller than he is.
Personality
Kouta is very cheerful and outgoing. He enjoys female company and because of that, he often chases after girls, who he doesen't even know beforehand.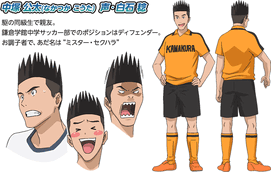 Trivia
He is the only player that played for both the FC and the SC before it became a mixed team. While Matoba Kaoru also went to the try-outs for the FC, he didn't pass.
He was ranked 6th in the Character Popularity Poll
Stats

| | | |
| --- | --- | --- |
| Technique | | 3 |
| Passing | | 3 |
| Shooting | | 5 |
| Physical | | 7 |
| Speed | | 11 |