Kakeru Aizawa (逢沢 駆, Aizawa Kakeru?) is the main protagonist of the Area no Kishi series. He is the son of Mamoru Aizawa and Eiko Aizawa, the younger brother of Suguru Aizawa and the older brother of Mito Aizawa.
Background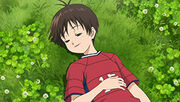 Kakeru is the young brother of Suguru Aizawa, a genius midfielder hailed as the savior of Japan's soccer. He played as a forward in the same football team with him, Nana Mishima and Kouichi Hibino as close childhood friends. Kakeru, Suguru and Nana were the closest of friends. Before Nana left for the US, they made a promise that they will one day wear Japan's Samurai Blue uniform together and make it into the World Cup. However, during a match in elementary school, Kakeru severely dislocated Hibino's leg while attempting to score a goal. This incident left a deep psychological scar on Kakeru to never use his left leg when scoring, and resorting to shooting with his right leg which puts him at disadvantages. Despite this hindrance, Kakeru is noted to possess a keen sense of the ball and can create scoring opportunities even in the tightness defense, traits that make him an ideal striker.
Prior to the series during Nana's transfer back to Japan, Kakeru resigned his position as a forward after the trauma and decided to settle down for team manager because he couldn't give up soccer completely. This was noticed by Suguru, and consulted with Nana about being Kakeru's moral support to overcome his fear. After a horrible car accident that left Suguru dead and Kakeru fatally wounded to his heart, Kakeru was saved by a heart transplant and the donor of that heart was none other than his own brother. With a new chance at life, Kakeru returns to the football field in hope of realizing both brother's unfulfilled dream of winning the world cup.
Appearance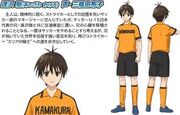 Kakeru has dark brown hair and eyes. Unlike Suguru Aizawa, his hair is less spiky but he has three strands of hair standing straight on top of his head. Kakeru is often noted for having a small build that does not accurately reflect the high endurance and strength he possesses. As of his first year in Enoshima, he is 169 cm tall. 
In middle school, Kakeru mainly wears the Kamakura School uniform, which consists of a blue jacket outside of a white dress shirt with a red tie and gray pants. After entering Enoshima High School, his uniform became fully black. Due to his love for football, Kakeru chooses to always wear his football shoes to be more familiarly active and perform his best in matches.
After graduating high school and eventually reaching the World Cup finals, Kakeru became taller with time whereas his face became almost identical to his late brother's.
Personality
According to Suguru Aizawa, Kakeru's fatal flaw is his lack of confidence which is the main cause that prevented him from using his left leg and scoring goals. Even after he became more determined to overcome his weakness, he still maintained part of his old personality, which can be seen when he gets nervous after other top players start paying attention to him. However, as Kakeru continue to grow as a striker, he begins to shed this old persona to show a more determined self. Makuhari from U-22 National Team described Kakeru as having a herbivore personality and is nothing like what a forward should be.
Kakeru is also noted to be very sensitive. This is mostly shown when Kakeru still let the traumatic incident prevent him from playing at his full potential after all these years. He only managed to get over this fear when Hibino directly told him that if he continued to be bothered by it, they will never be friends again.
Stats

| | | |
| --- | --- | --- |
| Technique | | 7 |
| Passing | | 6 |
| Shooting | | 9 |
| Physical | | 6 |
| Intuition | | 10 |
Etymology
The name Kakeru means "drive, run, gallop, advance, inspire, impel" (駆).
Kakeru's surname Aizawa means "meet, greet" (逢) (ai) and "marsh" (沢) (sawa/zawa).
Trivia
Kakeru was ranked 1st for Weekly Shonen Jump's best character from a questionnaire issued on Issues #41 2007 and #15 2010
Kakeru appears in chapter 8.5 of Real Account.
References
Enoshima Soccer Club
Members
Kakeru Aizawa
Manager/Coach(s)
Nana Mishima
Community content is available under
CC-BY-SA
unless otherwise noted.