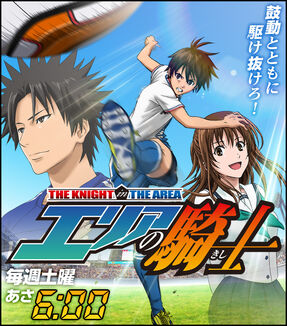 "鼓動とともに駆け抜けろ! (Running through along with the beat!)"
―The anime catchphrase., [TV Asahi]

The Knight in the Area (エリアの騎士, Area no Kishi?) is a on-going manga written by Hiroagi Igano and illustrated by Kaya Tsukiyama. The series was adapted into an anime by Shin-Ei Animation and broadcast on TV Asahi and it ran from January 7, 2012 to September 28, 2012, lasting to a season of 37 episodes.
Storyplot
Kakeru Aizawa is the younger brother to Suguru Aizawa, a football prodigy belonging to Japan's under–15 national team. Prior to the series, Kakeru quits his position as a forward after a traumatic experience prevented him from playing with his left leg and settles for a managerial position. After the two are hit by a truck, Suguru dies and has his heart transplanted into Kakeru. With it, Kakeru returns to football to achieve his brother's dream of winning the World Cup.
Anime Staff
Director: Hirofumi Ogura
Series Composition: Hirofumi Ogura
Character Design: Hitomi Tsuruta
Character Design Assistant: Yosuke Yabumoto
Art Director: Akira Suzuki
Director of Photography: Kenji Takahashi
Assistant Animation Director: Taizō Iwanaga
Assistant Director: Shinobu Sasaki
CG Director: Takeshi Sanada
Color Design: Hiromi Imaizumi
Key Animation: Sachie Tanaka
Mixing: Takaaki Uchiyama
Sound Effects: Kentarou Washio
External Links