Akira Takajou


Character Info
Kanji Name
鷹匠 瑛
Romanji Name
Takajo Akira
Gender
Male
Date of Birth
8/15
Blood Type
O
Title
Nuclear Bomb
Team
Kamakura High School
Position
Forward
Number
10
First Appearance
Voice Actor
Voiced By
Yuuichi Nakamura
Takajo Akira (鷹匠 瑛) is the ace and captain of Kamakura High School soccer team. He a formidable forward known for his flexibility and the ability to score in any position. Originally, he is suppose to be the forward to be paired with Suguru. After Suguru's death, Takajo became the number "10" in the team. Because of what Suguru said to him about the knight on the field, Takajo started to pay attention to Kakeru.
Background
Before becoming the ace for Kamakura High, Takajo, along with Asuka, suffered a humilitating defeat against Suguru's team. Although they were leading until near the end, Suguru came in the last ten minutes and overturned the match with two goals and one assist. Even now, this memory is vividly embedded in his mind.
Sometimes later, Takajo, Suguru and Araki all participated in the U-15 training camp. He was easily angered by Araki's carefree nature, but stopped when Suguru stepped in.
Few years later, Takajo was shown talking with Suguru after failing to qualify for the national. He asked Suguru to hurry up and come to the high school division so that they would win for sure. Suguru replied that in order to win the national they needed the knight to be awaken first. Takajo replied that he's knight that they needed, but Suguru countered saying that Takajo's more like a nuclear bomb rather than a pure knight. Takajo then asked who's this powerful knight that Suguru is waiting for. Although not directly answering, Suguru says that it's a knight with potential even beyond his imagination. Realizing who Suguru's referring to, Takajo labeled him as having brother complex.
Character Outline
Appearance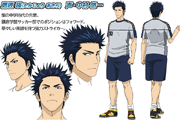 Personality
Position
Advance Forward
Stats

| | | |
| --- | --- | --- |
| Technique | | 8 |
| Passing | | 7 |
| Shooting | | 10 |
| Physical | | 10 |
| Arrogance | | 10 |
Gallery
References